Home / EXTRA LANDINGSPAGINA'S / STATIONERY WEBSHOP / Fox & Fallow Bottlebrush Notebook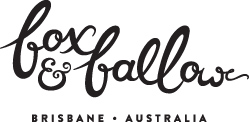 Fox & Fallow Bottlebrush Notebook
€ 11,95
Voor 16:00 besteld, dezelfde werkdag verstuurd
Fox & Fallow Bottlebrush Notebook heeft 60 gelinieerde pagina's.
Afmetingen: 152x203mm
Dit notitieboekje heeft een zachte kaft.
Ontworpen in Brisbane, Australië.
Wij hanteren 3 groepen verzendkosten:
Brievenbuspost (zonder track and trace) €2,95
Brievenbuspakket (met track and trace) €3,95
Pakketpost (met track and trace) €4,75
Bij alle bestedingen vanaf €50 is verzending GRATIS
* welke verzendkosten gehanteerd worden ziet u in de winkelwagen. Hiervoor hoeft niet ingelogd te of geregistreerd te zijn.