Home / KAARSEN / GEURKAARSEN / Wax Lyrical Fired Earth Candle Tin Earl Grey & Vetivert

Wax Lyrical Fired Earth Candle Tin Earl Grey & Vetivert
€ 16,95
Voor 16:00 besteld, dezelfde werkdag verstuurd
Wax Lyrical Fired Earth Earl Grey & Vetivert is verpakt in een blik met een Fired Earth behangpatroon. Wanneer de kaars is opgebrand kan het blikje gebruikt worden ter decoratie of voor het opbergen van kleine spulletjes.
Earl Grey & Vetivert is een kaars geïnspireerd op theesoorten. Osmanthus, vetivert, en sandelhout vormen naast earl grey de basis voor deze stijlvolle geur die ook uitstekend geschikt is voor mannen.
Brandtijd: circa 25 uur
Deze heerlijke geur is ook verkrijgbaar in geurstokjes.
Wij hanteren 3 groepen verzendkosten:
Brievenbuspost (zonder track and trace) €2,95
Brievenbuspakket (met track and trace) €3,95
Pakketpost (met track and trace) €4,75
Bij alle bestedingen vanaf €50 is verzending GRATIS
* welke verzendkosten gehanteerd worden ziet u in de winkelwagen. Hiervoor hoeft niet ingelogd te of geregistreerd te zijn.
Anderen kochten ook
Wax Lyrical Fired Earth Reed Diffuser 500ml Green Tea & Bergamot
€ 49,95
Wax Lyrical Fired Earth Reed Diffuser 500ml Green Tea & Bergamot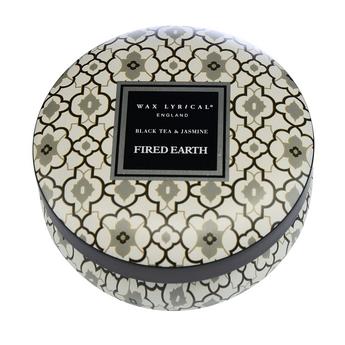 Wax Lyrical Fired Earth Candle Tin Black Tea & Jasmine
€ 16,95
Wax Lyrical Fired Earth Candle Tin Black Tea & Jasmine