Home / POPULAIRE CATEGORIEËN / KADOOTJES / O.W.N. Candles 18 Scented Wax Melts Gift Jar Lavender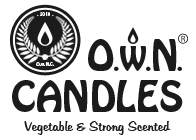 O.W.N. Candles 18 Scented Wax Melts Gift Jar Lavender
€ 11,25
Voor 16:00 besteld, dezelfde werkdag verstuurd
LAATSTE EXEMPLAAR*
---
O.W.N. staat voor One With Nature, een merk dat kaarsen en wax melts maakt die vrij zijn van parabenen en ftalaten. De producten zijn gemaakt van plantaardige was, en vrij van paraffine of andere chemicaliën.
Alle producten van O.W.N. zijn handgemaakt, en geen enkel component van hun producten is getest op dieren.
De geur Melon-Strawberry is bloemig, fris en medium van geur.
Totale geurtijd: circa 45 uur per 18 wax melts.
Tip: combineer verschillende geuren in je geurbrander om zo je eigen unieke geur te creëren
---
* Dit product gaat uit ons assortiment en zal dus niet meer op voorraad komen.
Wij hanteren 3 groepen verzendkosten:
Brievenbuspost (zonder track and trace) €2,95
Brievenbuspakket (met track and trace) €3,95
Pakketpost (met track and trace) €4,75
Bij alle bestedingen vanaf €50 is verzending GRATIS
* welke verzendkosten gehanteerd worden ziet u in de winkelwagen. Hiervoor hoeft niet ingelogd te of geregistreerd te zijn.